A few days ago, my tenth follower jumped on board. Yay for the small victories! And since my day was brightened, I thought I would do my best to brighter yours too. So here it goes!
Miss G thinks give-aways are almost as good as a goldfish!
Edit: Give away now closed
My first give away! This is one on my favorite books. I think it is a must read for anyone. It covers how to sew a button, of course, but also how to start a book club, how start a fire, how can the food it teaches you to grow, and so much more. There are ten sections to make things easy to find: cooking, gardening, cleaning, nesting, thriving, saving, joining, and entertaining. Erin Bried, the author, writes with such humor, you almost don't realize that you're learning, and learning volumes at that. I don't think there is a single idea in here that I won't use, and I think you'll say the same thing after you read it.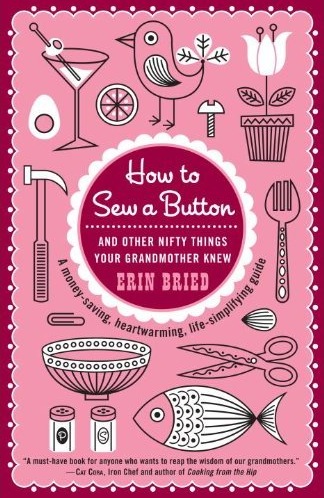 So how do you win? Just leave me a comment letting me know one of your small victories! One comment per person please. Please also leave your email address in your comment, so I can contact you if you win! That's it! Spread the word, and celebrate the little things in life that bring us all one step closer to our goals. I'll pick a winner by random on Monday Night, May 2 (a giveaway can always make Mondays better).